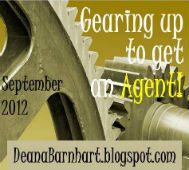 Hello my fellow Gutgaans. I'm so excited to participate in Deana Barnhart's Gearing Up To Get An Agent as a first round judge. I love meeting new people so please leave a comment saying hello. Click
here
to continue with the blog hop.
Time for the meet and greet.
-Where do you write?
My writing desk is in the corner in my bedroom.
-Quick. Go to your writing space, sit down and look to your left. What is the first thing you see?
I have a window to my left and another to the front. I stare outside when I'm daydreaming or having difficulty with a scene. There is a large oak tree which houses squirrels and pigeons perch on the window ledge. It's is very relaxing.
-Favorite time to write?
I enjoy writing late at night when the kids are asleep. There is something velvety about the night. Sometimes, I'll sit on the balcony stare up at the sky. I love when the moon is full overhead. It's very inspiring and sparks my creativity.
-Drink of choice while writing?
I like a cup of coffee with sugar and hazelnut creamer.
-When writing , do you listen to music or do you need complete silence?
I listen to music. I love Pandora. I have several stations set. There is my new Bollywood station (I love Indian music), Pop/RB station, my Within Temptation/Avenge Sevenfold station, and Opera Station.
-What was your inspiration for your latest manuscript and where did you find it?
My latest manuscript was inspired by a short story I wrote in college. After my daughter was born it evolved into a bedtime story, QUEST FOR THE GOLDEN APPLE. I decided that it needed more attention during NaNoWriMo and QUEST evolved into a full MG. I lovingly call it my Goonies in the Hood fantasy adventure, and the characters are absolutely adorable. I gush about them

here

and

here

.
-What's your most valuable writing tip?
I put off writing when I had my children. I thought I didn't have enough time to devote to learning my craft and raising little ones at the same time. I didn't realize that by writing a few hours a day, I would be so much further along in reaching my dreams. So, I say to find the time, heck, make the time to write—even if it's only fifteen minutes a day. Don't look back at your life in 10 years and regret the time you've lost.